It's unbelievable: going on vacation and travelling in Germany has become quite reasonable compared to other European countries.
Good prices for drinks and meals make Germany very attractive for a great vacation.
Have a look:
In out Hotel & Pub we serve beers
Warsteiner and Bitburger Pils 0,33l bottle 2,00 Euros
famous Eifeler Landbier 0,33l bottle 2,50 Euros
Leaving the Eifel, you´ll never forget an miss the Batralzem-snaps.
In Germany we say: "We don't spit in the glass." Means something like, eh, ok, no, find out yourself...
Bikers meet many like-minded people here in the Eifel area – the Eifel and its charming curves are a real paradise for great motorcycling! You´ll meet a lot of bikers from Netherland, Belgium and of course Germany.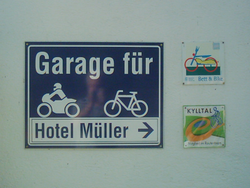 Looking for Bikerhotels in the Eifel?
On Saturday 19.05.2018 the big Kyllburger outdoor swimming pool opens.
The Eifel Mountains are one of the finest country sides in Germany and a wonderful stopover point on the closest way at highway A60 and B51 from Scandinavia to France (Provence, Cote d'Azur), Spain or Portugal.
(Harbour of Puttgarden, Ilse of Fehmarn to Kyllburg 704 km and Harbour of Kiel to Kyllburg 645 km,
Kyllburg to Aix-en-Provence 912 km)
Motorcycle cowboys and cowgirls discover top routes with exciting curves and zigzags, interesting sightseeing with Romans, Celts and their menhir, Neanderthal men, a quantity of castles an the Eifel-Beer.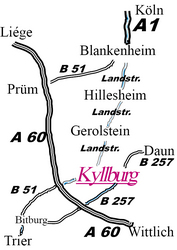 Kyllburg is located close to Bitburg (the beer-town), the Air-Force Base Spangdahlem, the former roman capital Trier and the border of Luxembourg.
Discover and enjoy!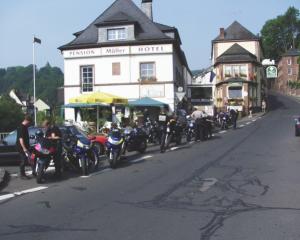 The Hotel Mueller garni Kyllburg Eifel is one of theese small and friendly biker hotels in Eifel close to Bitburg. In our mountaines you´ll drive exciting roads bents and wonderfull small asphalted forest-roads. Landscape pure!
Bikers welcome!
All rooms are equiped with shower/wc, some with balcony facing the river Kyll.
Have a look to our special-offers!
Motorbikers have free garage and small tool-service. At sunny summer-weekends our Biker Bistro on the terrace in front of the hotel facing the river Kyll will be open. We are driving ourself, in case you need any assistance for organizing your tours or sightseeing, we can offer you some guided tours.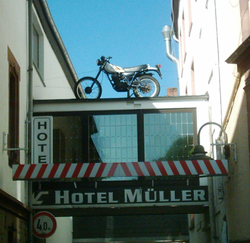 The Hotel Mueller Kyllburg Eifel:
modern and clean rooms with shower/wc, some with balcony
breakfast
dinner 12,00 Euro
lunchbox 7,00 Euro
dryer, if there is something wet
free garage for your bikes
small tool-service if your bikes are on strike
fire-place room with self-service bar
Bikers Bistro at river Kyll
partyroom with kicker
guided tours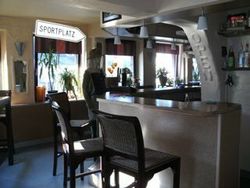 We have a lot of visiting bikers from Belgium, England, Luxembourg and Netherlands.
In our Biker-Bistro & Bar we serve coffee, tea, several beers like the famos Krönes Eifeler Landbier and drinks with or without "freeze protection".
The Biker-Bistro is open from 11.00h on weekends and from 18.00h midweek till midnight. We prefer to hear blues and rock `n´ roll in the pub.
Come in and meet new friends!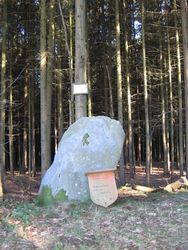 Bikerlinks
Foto on the right: Menhir "Langenstein" on Ferscheiler Plateau