Corona
Ladies and Gentlemen,
dear Friends of Kyllburg,

due to the corona-pandemic we `ve to close our hotel and bistro.

Stay healthy. Stand fast!
Kyllburg Eifel Hotels Germany means:
Splendid area in charming mountains
and
Good prices for drinks and meals are making Kyllburg-Eifel-Germany very attractive for a great vacation.
#IloveKyllburg
Enjoy!
You are looking for a nice and friendly Hotel in the Eifel?
Here we are.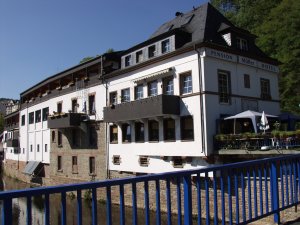 Get your reasonable Eifel accommodation here: Just a few miles from "City of Beer" Bitburg in the centre of Kyllburger Waldeifel you´ ll see the Hotel Müller in Kyllburg Eifel close to river Kyll and station.
Have a break, have Eifel
In the Eifel Mountains we have a lot to see, smell, hear, taste and to do for you, like fishing, splendid golfcourses, biking, motorcycling, walking, bicycling in Eifel, canoe, roman and celtic(!) history, canyoning, old and fine restaurants, relaxing, castles, monasteries, forests, volcanos (not activ!), wildlife, gamewatch, fishing, lakes and nature everywhere.
More informations at www.eifel-direkt.de english version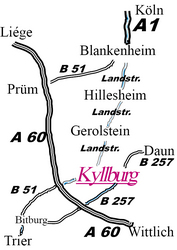 Kyllburg
Kyllburg is known since the 8. century, in 1239 the castle was build, now you can see the Bergfried, the last tower of the former Kyllburg which named the small town.
Close to the Bergfried you´ll see the Stiftskirche, a traditionell catzholic church with famos colored windows.
Kyllburg owns a public open air swimming pool.
The city of Kyllburg is located close to Autobahn A60 or Bundesstrasse B257 just some kilometers far from Bitburg. Our Hotel Mueller Kyllburg ist wonderful and ideal place for a stopover-holiday on the way from Denmark, Finland, Norway and Sweden to Cote d´Azur, France, Spain and Portugal.
Or on your way back.
Bikers are welcome!, have a look to our biker´s informations.
Our Hotel in the Eifel
Hotel Müller is a small and fine hotel with 34 beds and offer you a friendly and very personal service with a lot of ideas for some nice days in one of the best landscapes of germany.
We offer comfortable nice rooms with shower/wc, balcony, breakfast or halfboard (breakfast and dinner).
You ll see a selfservice-bar in the fireroom and our bar/bistro with a open terrace to the river Kyll with good prices for drinks likje the famous Eifeler Landbier, a tastful local beer.
OK, come on a tour through our hotel! Meanwhile, by waiting for your visit, we´ll sit down at our fire-place room, having a good mosel-vine.
Your Hotel Müller Hotel at Kyllburg in the wunderful Eifel
Marion and Ulli Müller-Seitz