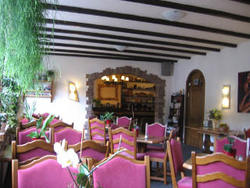 Your day starts with a fine breakfast. The large buffet is a invitation to plan the tour, the golf, the fishing togehter with a cup of tea or coffee.
At 7.pm the dinner will be served here.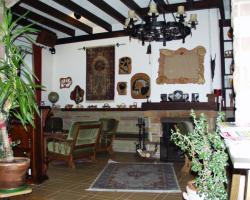 Coming back from your adventure with your bike or car, after 300km or 3km on feet through the forests, you´ll have a fine releax in our fireroom with the self-service-bar.
You´ll see vine, bear, soft-drinks and the strangely "Batralzem" a local snaps.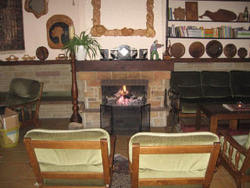 In wintertime from november till march the fire is burning.
What´s better than a fine warm up with a drink in the hand facing the flames.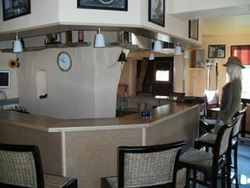 Our new bistro shines in new gloss. Here you´ll get low-priced coffee, tea, latte maccciato, soft-drinks, severals kind of fine german beers and snaps like the famos local Eifel Bier.
Our music is a mixture of Rock, Blues and Oldies.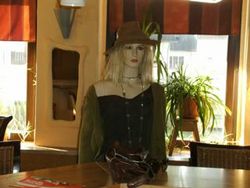 Chantall is our nice and friendly service. Uli is faster, but Chantall is not beatably in listening.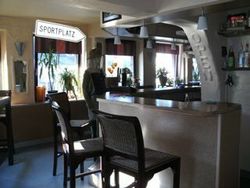 Sports!
This is our "kicker" room (football on a table). A lot of local gentlemen are looking for their chance every night, so take your chance!
Follow the sign...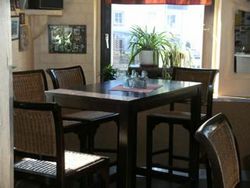 Dangeroes corner ahead!
Every wednesday the ladies evening will take place here.
The bistro has place for 25 till 30 guests.
And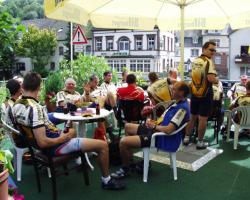 In summertime the terrace in front of the river Kyll will be open. Take place in one of our comfortable chairs.
A lot of groups are taking a break. Motorcycle cowboys and -girls, bicycle driver, Eifel walkers are meeting together while fishermen are lieing about their fishing.
You´ll see good guys on our terace, locals and guests.
Parking place for motorbikes is ahead.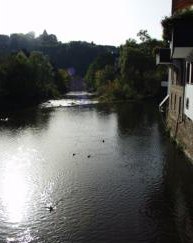 In background on the mountain the "Bergfried" the last tower of the broken castle. Pur romantic.
Enjoy the view of the balcony of your room. The sun shines into the late afternoon. Fishes, ducks and eternally rushes the Kyll…
...do not forget: consider our Eifel super-savers special-offers.