Rent a Hotel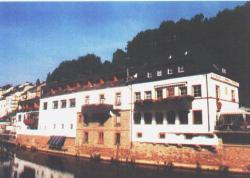 Searching an Hotel for Your Group in the nice Eifel Mountains?
You are looking for something more than a youthhostal?
You are looking for a large kitchen to experiment with your cook club?
You are looking for nice place to celebrate your family party?
You are looking for a small nice place for a small conference in Eifel?
You are looking for an small Eifel Incentive?
and you´ll like to save some money?
The Hotel Mueller garni Kyllburg Eifel offers groups a very special service:
Go as you please!
Rent our hotel with - or without
all rooms
the kitchen
the bar
the partyroom
You can choose between all services:
breakfast
halfboard
fullboard
all inclusive
or self-service
or self-cooking
Programm
In the Eifel you´ll have a lot of possibilities of realising a nice programm from happy balloning to visit of detilleries of Eifel-Snaps.
Name us your ideas, we´ll give you a very special offer. We coorporate with catering-companies, the tourist-office, foresters, bus-service and a lot of friends...
The minimum stay will be 2 nights on weekends.
Enjoy the Eifel with your group!